Adventures in Babywearing: What NOT to Do
(as dictated to Cait)
At almost two months postpartum, I am finally really feeling like myself again, with energy levels I haven't had in almost a year. So this past week, Natalie and I have embarked on a series of journeys, exploring our full range of
baby carriers
(and we have many). I had visions of blogging about it, too, comparing and contrasting different slings and carriers and even the stroller. And then we had today's adventure.
(I think it all happened because we dressed her in this outfit.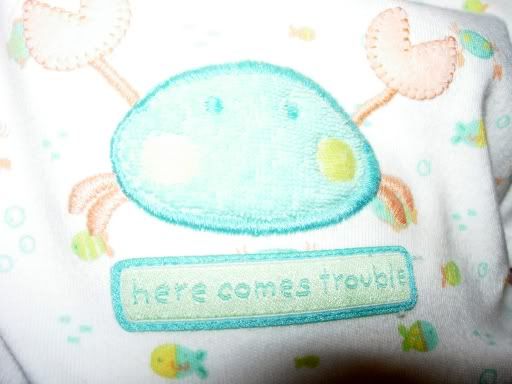 Is that not literally asking for "trouble"?)
Cait had the day off and we decided to go for a picnic and a hike at
Great Falls
, where we once had our first almost-date. We packed bread, cheese, and chocolate, and had a lovely picnic --
Natalie's first
on real grass, though the night before we had a
pseudo-picnic
on
Astroturf
. We made sure to explain the distinction. But I digress. At any rate, after the picnic, we decided to walk down to the falls overlook. Mind you, this was not our real hike, just a photo op down a short, wide well-maintained path. I was carrying Natalie in the Ergo*. When we were about 150 yards into the woods, I began to tell her how much her moms love the woods. The words were not fully off my lips when I felt myself stumble. In what was the longest second of my life, I fell forward, knowing I was falling with Natalie on my chest, and there was nothing I could do about it.
I hit the ground hard, and I knew it hurt, but I couldn't think of anything else except Natalie. Cait rushed to help us, and everything gets a little blurry at that point. Cait was trying to talk, but I just kept saying "Is she OK? Is she OK?" as Cait worked to free a screaming Natalie from the Ergo. While comforting her, Cait looked her over and spent a long time examining her head, which terrified me even further. Once it was obvious that she had no cuts or broken bones, I found a rock and sat down to nurse her and help calm her down. Cait finished looking her over while she nursed, concluded that she had a small bump on her head, but since she wasn't even flinching as Cait touched it, that she was probably OK.
I was another story, crying hysterically at what had happened, what I had done to our baby, and what could have happened. I was also scraped and battered all up and down the right side of my body, though I wasn't paying a hell of a lot of attention to this. Trying to save what we could of our day, we continued a few hundred yards to the falls overlook, but all I did was look at the falls and cry, so we decided to leave.
As we drove out of the park, we debated whether we should call the pediatrician or go directly to the emergency care clinic. I began to realize that my elbow really hurt, and while there was a Puritanical, masochistic voice in my head saying I deserved it, the practical part of me realized that if I had done something to my arm, it was going to make life with an infant really difficult, and I should get it treated sooner rather than later. So we went to the clinic, where our favorite doctor/friend prounounced Natalie (who wiggled and grinned and cooed on the examining table) fit as a fiddle, but sent me for an X-ray. The X-ray revealed nothing, but the radiologist and the tech think there must be something wrong with my arm from the way it looks, my limited mobility, and the amount of pain I'm in. We may yet end up in the Emergency Room or I may hold out until Monday and see an orthopedist.
It could've been so much worse. We are so grateful that Natalie emerged with just a small bump, and I am trying really hard not to beat myself into smithereens over this. It's been almost 9 hours since it happened, and I still feel terror in every cell of my body.
Great Falls, my ass. Hideous Falls is more like it.
*The Ergo, by the way, is a lovely carrier, and not to be blamed in any way for what happened
.