Give Us This Day
The
absurd heat wave
we endured in December and January finally gave way to wintry weather (such as it is in DC), and we've gotten a couple of wonderful snow days - the best perk of teaching! We've had almost a whole week at home together and it's been delightful (other than Natalie's cold, which drags on and on and may be morphing into a sinus infection). We had brunch with
Jenny & Ezra
at our favorite restaurant* and then hung out at out at our house for most of the afternoon playing games, reading, and knitting. Oh, and doing laundry and organizing baby clothes. We are finally making ground in the
War of the Textiles
(although I am beginning to think Natalie is a double agent).
The best non-baby activity I've been enjoying this week, though, has been baking bread. Divine, glorious, crusty, infinitely variable bread.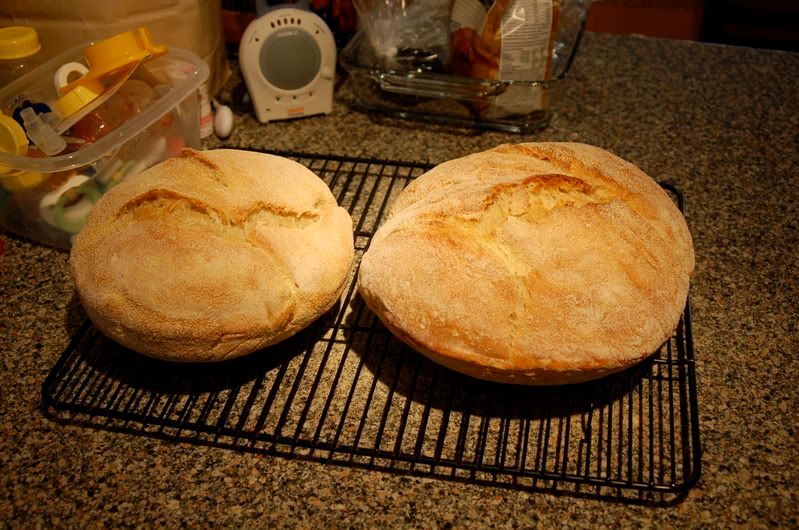 If bread baking has ever scared you, KEEP READING. All of its other merits aside, the true glory of this bread is its simplicity. It's practically effortless, there is
no kneading required
, and it doesn't need any fancy ingredients or equipment. Flour, yeast, salt, water. Oh, and time. It does take a long time from start to finish but all but fifteen minutes of it is completely unattended. The
recipe
was published this past fall in Mark Bittman's NYT food column and made the rounds of food blogs and websites but I was oblivious until a neighbor tipped me off a few weeks ago.
Once you've tried the basic recipe, you can tinker. So far, I've baked five or six loaves and have tried adding chocolate chunks in one and substituting some whole wheat flour in another. Next up is something in the cinnamon/raisin/pecan family.
Oh, and it's saving us a lot of dough, too. My biggest financial weakness is food, and Cait is addicted to good bread, so we spend way too much money on artisan bread at the Farmer's Market. Now we can bake our own. My stomach and my miserly heart are united at last!
Give it a whirl and let us know what yummy varities you come up with . Daily bread. It really is divine.
*forever to be known in our house as the Labor Cafe, as it's where we had breakfast on April 14 as then-Harpo began her entrance into the world. Plus, lots of Marxists and hippies like to hang out there.... :)